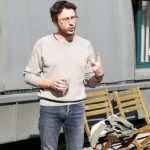 Damien Simonneau est docteur en science politique de l'Université de Bordeaux, rattaché au Centre Emile Durkheim.
Il est maître de conférences en science politique (sociologie des relations internationales, études de sécurité, humanitaire et développement) à l'INALCO (Institut National des Langues et Civilisations Orientales) au sein du département "Relations Internationales".
Il sera affilié au CESSMA (Université de Paris, IRD, INALCO).  Ses recherches portent sur les politiques de sécurité frontalière aux Etats-Unis, en Israël-Palestine et en Europe. Ses publications interrogent les murs de séparation frontaliers et la notion de « frontière ». Il a notamment publié cette année son ouvrage sur L'Obsession du mur chez Peter Lang. Chercheur à l'Université Saint-Louis – Bruxelles, il s'est intéressé au plaidoyer des associations de défense des droits des étrangers en France et en Belgique. Il élabore également un projet de recherche sur la digitalisation de la frontière entre le Royaume-Uni et la Belgique. Par ailleurs, il enseigne à Sciences Po Bordeaux et à l'Université Paris 8.
Associé au CReSPo : 2021-2023.
(in English)
Damien Simonneau holds a PhD in political science from the University of Bordeaux (Sciences Po Bordeaux).
He is lecturer in political science (sociology of international relations, security studies, humanitarian and development studies) at INALCO (Institut National des Langues et Civilisations Orientales) in the "International Relations" department. He will be affiliated with the CESSMA (University of Paris, IRD, INALCO). His research interests focus on comparing contemporary border security policies. He is investigating topics such as the construction of migration and mobility as "public problems"; militarism and the role of security expertise; the outlines of State actions; the protest against border and migration control from civil society; as well as economic adjustments to border security. He situates his analyses in critical security studies, public action analysis and border studies.
His PhD research dealt with mobilizations in favor of separation walls in Israel and in the USA. He conducted fieldwork inside two pro-wall coalitions in Israel, as a visiting fellow at the Centre de recherche français de Jérusalem (CRFJ), and in Arizona as Visiting Fulbright Fellow at the Arizona State University in 2012-2013.
As a Marie-Curie Move-In Louvain Postdoctoral Researcher at Université Saint Louis Bruxelles and now a postdoctoral researcher at Institut Convergences Migrations, he studies advocacy activities of NGOs defending migrants' rights in France and in Belgium. He is also developing research along the issue of the datafication of the UK-EU border post-Brexit for trans-border trade actors.
Moreover, Damien Simonneau was guest professor at Université Saint Louis Bruxelles teaching International Relations in 2019-2020. Previously, he was teaching political science and IR at Université Sorbonne Paris Nord, Institut Catholique de Paris & INALCO. This year, he develops a Master class on border security at Sciences Po Bordeaux, and one lecture on security at Université Paris 8.
He is also associated to the Centre Emile Durkheim (Sciences Po Bordeaux).
Research interests
Sociology of international relations, critical security studies, comparative politics, sociology of public problems, border studies, US border policy, Israeli-Palestinian conflict.
Publications

Les langages de la contestation. Comparaison de deux campagnes de défense des droits des migrants en France et en Belgique, in Le Ferrec L. & M. Veniard (dir.), Langage et migration : approches pluridisciplinaires, Limoges, Lambert-Lucas, 2021.
L'obsession du mur. Politique de militarisation des frontières en Israël et aux Etats-Unis, Peter Lang, coll. « Enjeux internationaux », 2020.
"Beyond "security" and "hospitality": counter-framing migration control. Cases of campaigns defending migrants' rights in France and in Belgium", in Forum "(Im)moral Borders in Practice", Nora El Qadim, Beste İşleyen (eds.), Geopolitics, en ligne, 2020.
Avec Pietro Castelli Gattinara, « Prendre sa part aux logiques d'exclusion : les mobilisations anti-migrants en France, en Italie et aux Etats-Unis », Critique Internationale, n°84-3, 2019, p. 105-124.
« Construction de la menace et construction des problèmes publics. Les mobilisations pro-« barrière frontalière » de l'Arizona », Etudes internationales, vol. XLIX, n° 1, Hiver 2018, p. 25-56.
Avec Denis Duez, « Repenser la notion de frontière aujourd'hui du droit à la sociologie », Droit et Société, n°98, 2018, p. 37-52.
« Des murs incomparables ? Enjeux et élaboration d'une comparaison des mobilisations pro-barrière en Israël et en Arizona (États-Unis) », Revue internationale de politique comparée, vol. 24, n°4, 2017, p. 349-372.
« Entre suprématie blanche et cybersécurité. Mutations contemporaines des pratiques de vigilantisme en Arizona », Politix, vol. 29, n° 115, 2016, p. 79-102.
"Chameleon Wall. Inside two coalitions of pro-fence actors in Israel", Journal of Borderlands Studies, vol. 31, n°3, septembre 2016, p. 287-304.
« Regard critique sur le label 'études critiques de sécurité' », Etudes internationales, volume XLVI, n° 2-3, juin-septembre 2015, p. 147-166.