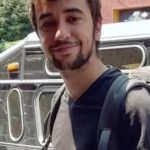 Maxime Gaborit est assistant et doctorant en science politique au Centre de Recherche en Science Politique (CResPo) de l'Université Saint-Louis – Bruxelles. Diplômé de théorie politique à Sciences Po et de philosophie contemporaine à l'EHESS, ses domaines de recherche sont les mouvements sociaux écologistes, les politiques publiques climatiques, la théorie politique et l'écologie politique. Sa thèse, sous la direction d'Amandine Orsini, porte sur les mouvements pour le climat et leur impact sur l'action publique.
Coordonnées

Publications
Orsini, Amandine, Cobut, Loïc and Maxime Gaborit. 2021. Climate change acts non-adoption as potential for renewed expertise and climate activism: the Belgian case. Climate Policy. Online first.
Gaborit, Maxime, Disobeying in Time of Disaster: Radicalism in the French Climate Mobilizations, Youth and Globalization 2 (2020), 232-250.
Gaborit, Maxime & Collectif d'enquête sur les Gilets jaunes, et al. Enquêter in situ par questionnaire sur une mobilisation. Une étude sur les gilets jaunes, Revue française de science politique, vol. 69, no. 5, 2019, pp. 869-892.
Gaborit, Maxime & Grémion Théo, Jaunes et verts. Vers un écologisme populaire ?, La Vie des idées , 20 décembre 2019.
Ravelli, Quentin, et al. « Le Gilet et le Marteau. L'Assemblée des assemblées organise l'aile gauche des ronds-points », Mouvements, vol. 101, no. 1, 2020, pp. 13-24.